We're now getting some reports from people who've seen the show in early previews and returned a second time. Puck from
Schreiber land
:
anyway, things were pretty much the same as before except jennifer ehle slowed down a LOT, which i assume most people will be happy about. it did help make her monologue much more understandable. i kind of liked it though when she was running through the lines. there was a lot more energy in it. this was still a pretty solid performance. i think liev was a bit less energetic this time around as well. the rain delay and the cool temperature seemed to set up a more laid back atmosphere that took some of the bite out of the leads' performances. but they were still very good, and god knows everyone was a lot more comfortable. several issues of motivation and the transition in the characters made more sense this time too, though i think it's just because it's the second time i've seen it, not because anything was performed differently. i appreciated the staging and the sound more this time around. maybe the timing was a little better coordinated, but i didn't feel there were as many awkward bumps this time around. good call on getting rid of those camo nets in the grand finale. i also realized how much they played up humorous lines in the midst of the serious scenes. i don't know if it's usually done that way, but the levity was well placed and welcome in a largely tragic play.
And from Kerry who recommends repeat viewings: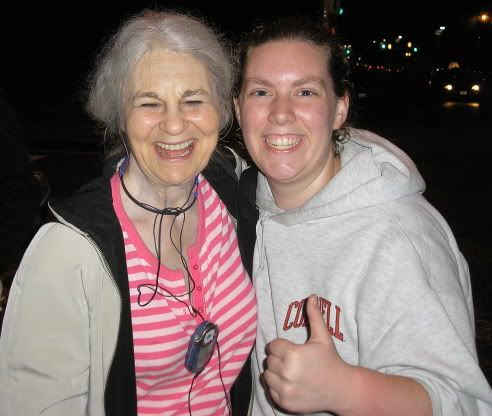 So I just saw Macbeth for the second time and it was AWESOME. Everyone had grown into their roles but especially JE. She seems way more comfortable and her performance is excellent. I went when it rained all day so it was very empty and I got to move up all the way to a front section. Didn't rain during the performance thank goodness. I jetted out during the curtain call and camped out for a picture with the fabulous JE. She was super spectacularly overwhelmingly nice to me - I was very nervous and I think it showed. She took a picture and got an autograph for my friend Terry!! Her hair is going in very cool. Walked out of the park with one of the witches - we talked the whole way about the show and how each night is different. If you went once go again - I might go a third time!
Terry sez million thanks - even if T-i-n-a is the more conventional spelling! :P