This has an interesting source, a blog by
Mark Wells
, who plays Jennifer Ehle's son in
Alpha Male
. His blog doesn't really say much about the shooting. However, there is a little commentary about the other actors, and some photos not available on Nicola Dove's site.
Click to enlarge.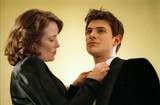 Photo copyright
Nicola Dove
.
See a "behind the scenes" photo of Ms Ehle by Nicola Dove via
eyebox
. Enter site >> Enter popup window >> Nicola Dove >> Facade >> #6.