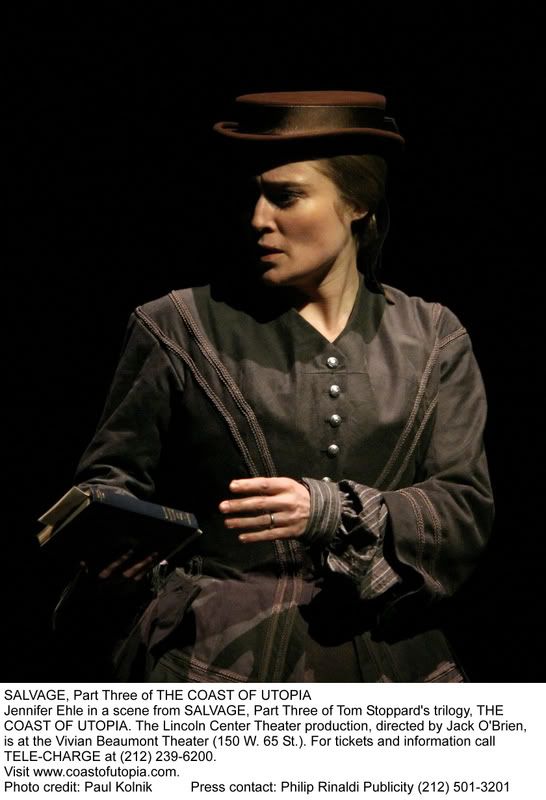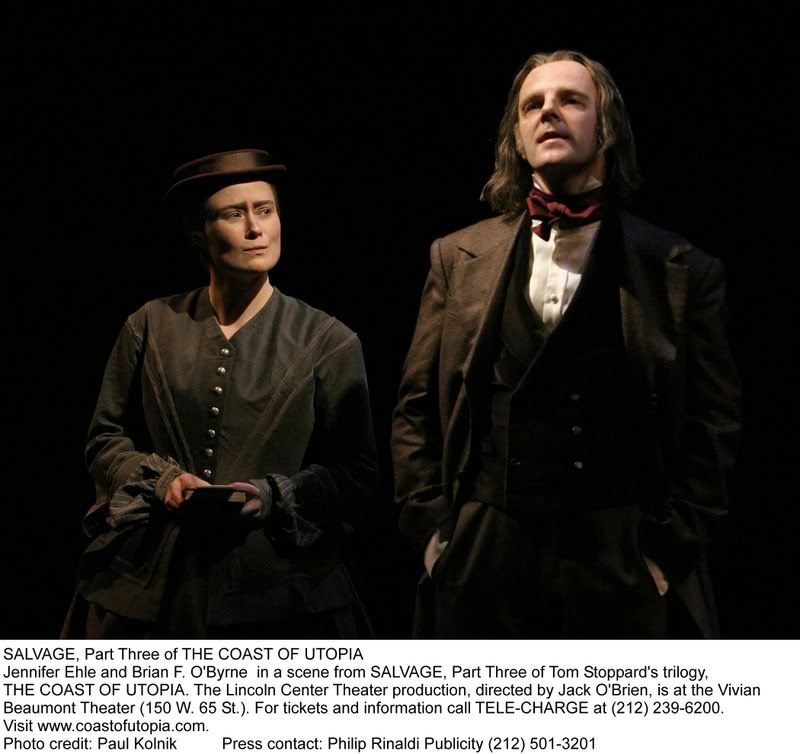 Tis a sad day, losing the best partner in crime one could ever wish for. Chels, you've been the sanity of the blog, and without you this thing would've died a quiet death in 2005 already! All your fault. It's been a ball sharing the squeeful highs and angsty lows of this crazy rollercoaster with you, and a million thanks for your loyalty, support and hard yakka. This friendship has far outgrown its original fannish roots - shotgun on teaching your kids to embroider cushions and play their instruments very ill!
Well, the show must go on - til June at least. More on that later.
The pictures above are courtesy of the LCT - their site also has some other

Salvage

stills. More pictures can be seen at Broadway.com's photo feature and in their video on the

Salvage

opening, according to Kate (ta) there's a clip of Ms Ehle as German-accented Malwida and interviewage.
Playbill reports from the

Salvage

opening night bash.
LCT blog updated with a post about the last opening. The LCT site also has a roundup of reviews, but nothing new there.
On to

Salvage

reviews. Peter Marks, Washington Post.

[...] Martha Plimpton, playing a woman Herzen conveniently turns to -- even though she's married to a friend of his -- not only makes for a wonderfully impetuous life force, but also a nifty counterpoint to the severe German nanny portrayed by Jennifer Ehle. As Herzen's friend Ogarev, Josh Hamilton provides a finely nuanced account of a man with all too human weaknesses. [...]

Toby Zinman, Philadelphia Inquirer.

[...] The remarkable Jennifer Ehle reappears in her third role in the trilogy, the frowning German governess, and Martha Plimpton reprises her Natasha of Shipwreck, revealing how her girlish charm has tarnished with time. [...]

Eric Grode, NY Sun.

[...] Jennifer Ehle and David Harbour, who provided emotional ballast for the first two plays as two very different sets of lovers, are still around but in lesser roles. Ms. Ehle, last seen as Herzen's doomed wife, has returned in the thankless role of Malwida von Meysenbug, a stern German nanny who inveigles her way into his domestic life. (The real-life Malwida was far more interesting, the sort of galvanizing intellectual force who met Friedrich Nietszche through their mutual friend Richard Wagner.) Mr. Harbour, by contrast, is given the juicier but even smaller role of Bazarov, a proto-nihilist whose chance encounter with Turgenev spurs the writing of "Fathers and Sons." [...]

Elysa Gardner, USA Today.

[...] Jennifer Ehle, Martha Plimpton, Josh Hamilton and Richard Easton shine in other roles, though Ethan Hawke, as before, emotes a little too eagerly. [...]

Roma Torre, NY1. Note the video content as well, in both dialup and broadband formats.

[...] Ethan Hawke as the imprisoned anarchist Bakunin returns battered but energized. Josh Hamilton's ailing drunken Ogarev; Martha Plimpton as his unstable wife, and Jennifer Ehle who is now the upright governess, deserve special mention. [...]

Eric Alterman, The Nation. A piece on the significance of the trilogy.
At Westport Public Library this Sunday 2pm, there's a free talk entitled "Who's Afraid of Tom Stoppard? Navigating The Coast of Utopia" delivered by Mark Schenker, associate dean at Yale College.
On the blogs and forums: Lady Crumpet liked

Shipwreck

, positive notice for "Rosemary Ehle" in

Salvage

at the Follies of Greg, and there's general praise of the trilogy at Future Librarian. Cajun Boy dittoes Charles Isherwood, critic David Cote of Histriomastix is mixed on the trilogy, All That Chat's rwb is less impressed by

Salvage

than

Shipwreck

. BroadwayWorld discussion continues.

The first marathon performance is this weekend. We wish bon courage to both the cast and audience! If you're going, we would welcome a report - write to jenniferehle@gmail.com, as per.
Mention of

Road to the Sky

in an interview with Nandita Das.