GUESS WHAT!
There's a new project on the horizon!
India's
The Hindu
reports that Jennifer Ehle is going to be in
Road to the Sky
, helmed by cinematographer-director
Santosh Sivan
. The film was shot in
Munnar
(which explains the
strange coincidence
earlier).
"It is about a British planter (Linus Roache), who wants to build a road to the hills to commercially tap the produce of the high ranges, mainly spices. He is assisted by an Indian (Rahul Bose), who wants to be like the planter and live in his world. But he has his roots in his village and customs.

The film explores the relationship between the planter, his wife (Jennifer Ehle), his lover (Nandita Das) and his aide. Finally, Rahul's character understands that he has to make a choice and it is not quite possible to live in two worlds," explains Santosh.
Sounds tres promising. Look at what the actors say about him:
Linus regards his work in "Road to the Sky" as his best ever in 20 years of show biz. He showers praise on Santosh and says that he is an "extraordinary director" to work with, someone who is "genuine and authentic."

"Working with him is like playing jazz. He has the structure but he creates freedom to be spontaneous. He also creates a fundamental positive basis that binds everyone to a common aim and focus; he is fast, which builds momentum and keeps the energy alive. He has a unique eye and a way of perceiving, where he is looking beyond the superficial and into the layers underneath."

Agreeing with him is Jennifer Ehle, who acted in the Istvan Szabo film "Sunshine." "It was really nice being on the sets and I hope to work with him again some day," she says.

Similarly, it was the desire to work with Santosh that drew Nandita Das to the film. Nandita, who is shooting for Chitra Palekar's Marathi film "Maati Maaye," says that "it was primarily the desire to work with Santosh Sivan, who is extremely passionate about what he does," that made her accept "Road to the Sky."
Here's his
IMDB filmography
, where the film is not yet listed. Look at the slight
Pride and Prejudice
connection - he was the cinematographer for
Bride and Prejudice
.
And on release dates:
Andy Spaulding hopes that "Road to the Sky" will have its premiere at one of the major international film festivals.
PS. Mary, you rock. Thanks for the hot-off-the-press tip!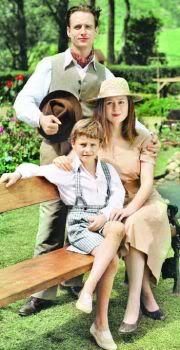 This is SO COOL.