After the little battle html and I had last time I hope to be able to orchestrate some links now without invoking any wayward musical instruments.
It is evident that the following sites will be ones to check frequently for updates and discussion so they have been added to the permanent link list here (available under Links at the right)
George R.R. Martin's Not A Blog
and
Winter-is-Coming blog
(rich with comments and has a promised-to-be-frequently- updated FAQ)
and
A Song of Ice and Fire Forum
[Morocco!] From the FAQ mentioned above and noted in our own ShoutBox:
"The pilot is filming in Belfast, Northern Ireland. Specifically, a large film studio there called the Paint Hall. They will also be doing some remote shoots in Morocco. Filming for the pilot is currently scheduled to start October 12, 2009 and last until November 6, 2009. Although these dates are not set in stone."
Check Your Bloggage Here
Captain Elias
In his
Super Powers that Be blog
, commented on Jennifer Ehle's casting as Catelyn fearing that, based on her performance as Jane Bennet in
"Keira Knightley's Pride and Prejudice"
[!!], she was too sweet for the role. After some gentle nudging via comments at his blog, he corrected one misapprehension and switched to Christabel LaMotte to support the "too sweet and romantic" worry.
In the
Captain's next Blog
anxieties had been laid to rest as he reported
"I'm very eager to see Jennifer Ehle as Lady Catelyn"
.
The
Stratovarius Community Forum
has a discussion of AGoT casting and favorable comments about JE.
At
Chronicles Network
, "The UK's largest Science Fiction & Fantasy Forums" there is additional casting commentary including one that notes
"What a score the actress who will be Catelyn is!
The
treacle mine road blog
draupadi
writes about the book and the casting.
Ain't it Cool News
has a forum thread for
HBO's "A Song of Fire and Ice"
The youthink.com site also has
A Song of Ice and Fire forum thread
, from which this comment caught my eye.
"She doesn't look cold enough. I guess it's up to acting."
(Oh, you bet it is. I can hardly wait for her to make the doubting jaws drop).
Recent Arrival
Look what just arrived at my house from Amazon! My weekend is now fully scheduled.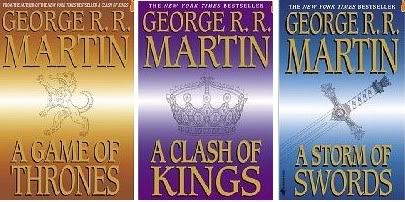 Book 1
Book 2
Book 3
Lines on Lizzy
Isabellecs livejournal
lists her Twenty Favorite Bad Ass Female Characters. Guess which someone with the initials EB came in at #17.
Alyssa Rosenberg in her blog entry titled
How We See Things In Our Heads
commented on
Jonathan Yardley's article
,
Pride. Prejudice. Perfection
in The Washington Post, which contended that film adaptations of Miss Austen's classic had failed to firmly fix [yep, that's a split infinitive. yep, I'm going to leave it there] actors in the public's (or his at least) mind as the personification of the characters ala Clark Gable/Rhett Butler. Alyssa responded:
"If Yardley somehow managed to miss A&E's 1995 adaptation of the novel, he is deprived. It's perhaps the only cinematic or television adaptation of a work of literature where the faces of the actors deserve to float back into our minds as we read the novels where they originate"