It's so fun to see reaction and chatter about Ms Ehle around the groups and blogs. On one hand there are the uninitiated who say "Who? Never heard of her." and on the other hand those who reassure them with, "Don't worry, she's a gifted award-winning actress who is going to be outstanding in this."
So that you can experience the fun too here are some of the links. (A couple have been included before and repeated here. ) Take a look if you have time. Many varying comments (read at your own risk but most are good).
[Edit. I managed to mess up links. I've fixed them (they work for me anyway) and the sad trombones should now be playing upbeat jazz. My sincere apologies.]
George R.R. Martin's Not A Blog
Winter-is-Coming blog
(At last look 482 comments ranging from Who is she to Love
her, great casting.)
Jane Austen Today:Mr. & Mrs. Darcy in the News
A Song of Ice and Fire The George R R Martin Forum,
, specifically
The Jennifer Ehle cast as Catelyn Stark thread
(Comments now at 6 pages)
HBO to Tackle A Song of Ice and Fire!
thread in Quarter To Three Forums
At
The Get a move on, George R R Martin thread
included at 'The Premier TV-Bashing Community Since 2001" (I don't make these things up), there are a few comments at
A JE casting section
which I include only because I found the following comment hilarious.
"I bet Jennifer Ehle only accepted this role so she could use the "zombie, post-dead Catelyn" as inspiration for when Hollywood eventually adapts "Pride and Prejudice and Zombies".
Xenagia Forums: Fantasy, Science Fiction & Horror
The Wert zone blog
Fronk livejournal
Tower of the Hand
Heroine TV
Pat's Fantasy Hotlist
Finish the Book, George
A blog that angrily waits for George R.R. Martin to finish A Dance With Dragons
I Was Never Young blog
Writer's News
Fantasy Fan blog
This is Lee blog
A link to

Depictions of some characters from A Game of Thrones by Michael Shanks
Including Eddard and Catelyn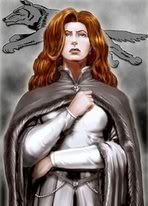 For you readers, a link to the text of the book
A Game of Thrones
coughed up at the Forum (was that you Kitty Bennet?)
A Game of Thrones, the book
Here' s
A Very Happy Mrs. Darcy
. I also felt like swinging from the chandelier when I heard about the new project, but I would not have looked anywhere near this good, believe me.
Not forgetting all that has come before, a recent review of
Pride and Glory
posted by
okapi

[…]To watch the interaction between Francis and his dying wife, Abby (Jennifer Ehle, in no doubt an underappreciated role), is to watch love at its purest…and hardest. It's an interaction that gets lost within all the shooting and bleeding, but I think, in the end, it's ultimately the symbol of what this movie is all about, and what is most important above all else.[…]