Well, you might have noticed that
Michael Clayton
opened in the US yesterday. (See
IMDb
for international release dates.)
USA Today
has an interesting article about the film and an explanation (pfftt) as to why
Jennifer Ehle's part was cut from the movie:
[...] The hero. So to speak. The divorced Clayton has a gambling addiction, a son he barely sees and an estranged addict brother. Plus, he's deep in debt to loan sharks.

Meanwhile, Clooney's marquee smile is on a dimmer switch, replaced by a haggard scowl. There is no explosive let-off-steam moment for him. "You feel a simmering," the actor says, "a building of disgust or anger."

And no romance, either, which was expected in the old days. Scenes were shot with actress Jennifer Ehle but went unused. "The ability to have any sort of love makes your character feel less isolated," Clooney explains. "You don't worry about him as much." [...]
Apparently not everyone has caught on. Several reviewers are still listing Jennifer Ehle among the cast members, such as this one at the Houston Chronicler.
In other news, Before the Rains was shown at the Pusan International Film Festival in South Korea on October 6. Two production stills can be seen at the PIFF website: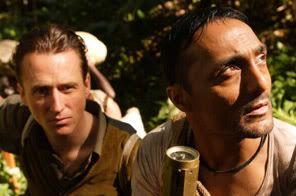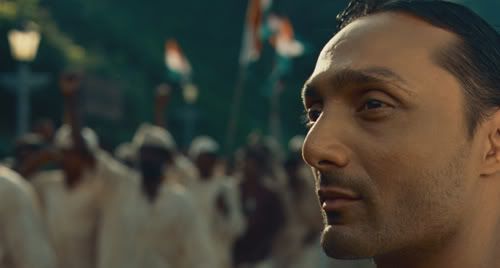 N.E.A.A.T.O. has more information:
[...] South Korea's Pusan International Film Festival will celebrate its 12th anniversary with a record 66 world premieres, underlining its status as the region's prime movie forum.
. . .
Pusan, a port city on the southeastern tip of the Korean peninsula also known as Busan, expects more than 200,000 visitors this year, to see 275 movies from 64 countries. Added to the world premieres will be 26 films getting their first international screening and a guest list that includes Jeon Do Yeon, who won the best actress award at Cannes in May, and director Volker Schloendorff ("The Tin Drum").
. . .
The focus this year is squarely on Asian filmmaking, in particular in Japan, China and India, organizers said.
. . .
Mani Ratnam's "Guru," a Bollywood movie about an ambitious man striving to climb the social ladder on his way to wealth, and Santosh Sivan's "Before the Rains," a story of friendship and conflict between a Briton and a local, will be the main fare from India. [...]

On The Russell Girl front, blogger Karen notes that they did some location shooting three blocks from her home in Port Credit. And, if you're interested, you can read more about Jennifer Ehle's co-star Amber Tamblyn at The Brock Press.
The 2000 Charlie Rose interview with Jennifer Ehle and Stephen Dillane has now been posted on youtube.com. Part I includes a clip from The Real Thing and Part II is the actual interview. (Remember that you can see an entire DVD of interviews like this if you join our lending library!) Also at youtube is a clip of Ms Ehle in This Year's Love.
Finally, Theater Mania has a cute photo of Rosemary Harris at the opening of A Catered Affair at San Diego's Old Globe Theatre. Scroll down until you see it.