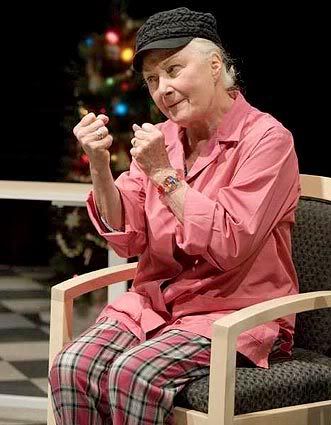 (
Photo
by Craig Schwartz, The Old Globe)
Another day, another review of Oscar and the Pink Lady, and the good phrases attached to Rosemary Harris' name continue to grow in number.
Charles McNulty
of the
Los Angeles Times
describes her as "one of those canny veterans who could mesmerize an audience while reading the proverbial phone book" before going into more depth about her acting abilities:
[...] When Harris acts, aspiring students of the theater should take notes. While they may not be able to match her intelligence, grace and, at 80, radiant freshness, they can learn from her greatest asset - her discipline.

The dramatic situation is one that a less experienced performer might try to milk for maximum heartbreak. Harris, on the contrary, steadfastly resists any sentimental indulgences. She portrays her characters as truthfully as she can, which means she enters the hearts and minds of those forced to confront mortality as a fact rather than as a speculative fantasy. [...]
He echos the sentiments of previous reviewers however that there are faults with the written word and that Harris is - at the very least - the redeeming feature of the show:
[...] But what [Harris] doesn't have ... is a proper play. It's really a slab of prose apportioned to characters who don't so much interact as hold forth. Fortunately, this old pro doesn't require much to work her soul-conjuring wizardry. ... The chance to enjoy Harris onstage, even in something that's not particularly effective as a drama, is always supremely worthwhile. [...]
French Culture
's ultra-brief description of the play meanwhile uses the positive words 'sensitive, heartbreaking, amusing, and ultimately life-affirming'
Also reviewed this week was Forbidden Broadway: A Rude Awakening which is now showing at the 47th Street Theatre. The opening of this season's revue - a 25th anniversary version - took place on October 2.
For those new to the concept, Julie Reed of The Associated Press describes it as 'taking the wind out of many an overblown Broadway show', while Frank Scheck of the New York Post goes for the 'scathing yet affectionate revue spoofing the Great White Way'.
As Ben Brantley of the New York Times notes, the show was called "The Roast of Utopia" but it has since undergone a change of name. Although the mentionees are predominantly Broadway musicals, Variety mention a Utopia reference:
[...] The sketches register more hits than misses, but among the latter are half-cooked digs at "Jersey Boys" and "The Drowsy Chaperone." While it starts out amusingly, with Donegan doing a wickedly earnest Brian F. O'Byrne in "The Coast of Utopia" ("I live with my wife, my two children, and my perfect theatrical diction"), a number that pits that highbrow hit against "glitzy hash" like "Xanadu," "Mamma Mia!" and "Grease" (by far the season's ripest target) is among the more pedestrian vignettes. [...]
In other news, there are a few items relating to Ms Ehle's co-stars of past and present:
Playbill announce that Jack O'Brien will be one of two honorees at the Primary Stages Gala Benefit on November 12, an event which recognises 'individuals who have made significant contributions to the American theater'. Artistic director Andrew Leynse said of the Utopia director and three-time Tony Award winner:
[...] Jack O'Brien is a very talented director of new plays and musicals as well as an accomplished writer, lyricist and producer, and an avid supporter of non-profit theater. [...]