So many exciting things to post about! First, it looks like Jennifer Ehle will be returning to Russia, figuratively speaking. She will be appearing alongside Kenneth Branagh in the
Donmar West End
production of
Ivanov
later this year! This is no ordinary
Ivanov
, but a new version of the Chekhov play written by none other than Tom Stoppard. Yes, this is the real thing: Jennifer Ehle in a Donmar production of a Stoppard play/adaptation! Mark your calendars for 12 September - 29 November 2008. Wunderbar, no?! Here is how the
Donmar West End
website describes the new
Ivanov
:
His marriage is in crisis, and his evenings are spent negotiating loans, avoiding love affairs and fighting to resist the small town jealousies and intrigues which threaten to engulf his life.

Kenneth Branagh plays the title role in Chekhov's explosive portrait of a man plagued with self-doubt and despair which vividly captures the electrifying atmosphere of Russia on the brink of change.
There is a caveat, however. We can't find any "googlable" (Tez's word) confirmation that Jennifer Ehle has been cast in the play. But, the news came straight from the horse's mouth: listen to the Leonard Lopate interview at
WNYC.org
. Ms Ehle appeared on Lopate's radio show on Thursday in order to discuss
Before the Rains
. The interview is about 17 minutes long and can be downloaded in MP3 format - a very interesting listen!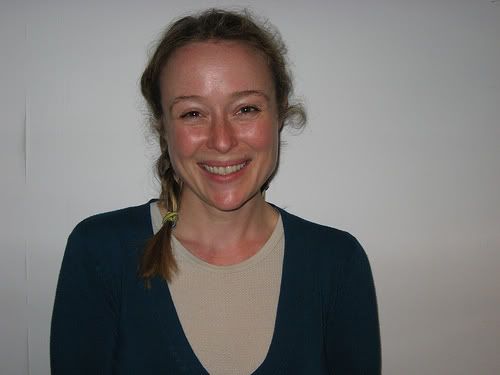 Flickr
has kindly posted this photo if you would like an image to go along with the audio. Note - if you haven't already done so, you can listen to last year's Leonard Lopate interview with Jennifer Ehle and her fellow
Coast of Utopia
castmates at
WNYC.org
.
The other exciting news is that Before the Rains was released in New York and Los Angeles yesterday. The Rains naturally brought in a flood of reviews:
Newsday concludes: "The film is well-acted, a broad colonial allegory, and again, visually gorgeous."


The New York Times explains:


Fatal culture clash, imperialist entitlement, forbidden passion between master and servant: the ingredients of the Indian director Santosh Sivan's period piece "Before the Rains" may be awfully familiar, but the film lends them the force of tragedy. [...]

The Village Voice mentions the "wonderfully headstrong Jennifer Ehle" and claims:


[...] Director Santosh Sivan imparts a vastness and a sense of wonder to the film, qualities reminiscent of a Thomas Cole painting: They remind you why the Brits thought conquering India was a good idea in the first place.

There is more praise at New York Magazine:


[...] But the screenplay, by Cathy Rabin and Dan Verete, builds nicely, and the cinematographer turned director, Santosh Sivan, likes to break up the verdant images with bits of encroaching nature: a frog, some bees, the flies on a cow's eye. Before the Rains is more engrossing as the focus shifts from Henry, who's not a bad man, just a spineless one, to Sajani, who thinks her English lover will give her a freedom she has never had—and finally to T.K., who gets stuck cleaning up his sahib's mess. Rahul Bose has a winning presence—eager with a touch of wariness or wary with a touch of eagerness, and never entirely at home. He keeps the movie from seeming too comfy—a good thing.

MaryAnn Johanson at Flick Filosopher is completely taken with the film:


[...] We don't know who seduced whom: we're the ones who get seduced by Before the Rains from the get-go. Renowned Indian director and cinematographer Santosh Sivan (Bride & Prejudice), in his first English-language movie, introduces us to Henry and Sajani as lovers in a scene that may be one of the most erotic things I've ever seen on film. There's absolutely no nudity, it's not graphic in the least, but it is smokin' hot. Ouch. [...] This is a movie made up of shivery delicious moments, beautiful little artistic ahas! that make you remember why you fell in love with movies in the first place. [...]

There are some interesting comments at TV Guide:


[...] A resolutely old fashioned story of personal tribulations played out against a backdrop of political turmoil, Sivan's film is well acted, beautifully photographed and oddly reassuring. It comes perilously close to suggesting that the injustices of colonial rule were the product of morally weak and misguided individuals rather than a system that empowered and enriched foreign interests at the expense of locals. Though based on an original screenplay by Cathy Rabin, it feels like a handsomely mounted literary adaptation [...]

Hollywood.com is chock full of positive quotage:


Before the Rains fascinates, enveloping you in its gripping story and lush locations. One of the most ravishing and breathtakingly beautiful films to come around in a long time.

On the acting:


Law and Order star Linus Roache returns to his comfort zone in English art-house cinema in past movies like Priest, capturing just the right balance between an ambitious man looking for upward mobility professionally and satisfaction personally against a turbulent backdrop of emerging nationalism in India. Love scenes with the gorgeous Nandita Das are sensual and believable--the stuff of classically tragic movie romance. Das is a real find. Not only does the camera love her, she acts with great poignancy as a woman trapped in traditions her heart will not let her follow. The other big female role goes to Jennifer Ehle, a fine actress stuck with a rather thankless role as "the wife." Along with Das, the other standout in the cast is Indian superstar Rahul Bose, who makes his "right hand man" conflicted and convincing as a man smack in the middle of two worlds with only one way out, caught up in events drifting out of his control.

On the direction:


Often foreign directors taking on their first English language projects flounder as something gets lost in the translation and they stray too far from roots they are comfortable with. For Indian director Santosh Sivan, the choice of this fascinating, if somewhat soapy story, is perfect. Based on an Israeli short film Red Roofs, the setting, characters and time period have been changed but its universal truths remain, with Sivan working in a new language while shooting in his native land. He successfully walks the fine line between a starkly realistic approach and melodrama, landing somewhere in the middle. Perhaps key to his triumph over the language barriers is the international feel of the whole enterprise and the choice of Indian actors who are able to make the leap themselves. But without question the key ingredient to Sivan's vision is his own stunning, jaw-droppingly gorgeous cinematography. When director and cameraman are the same, the results, at least in this case, are really something to watch.

There are also a handful of not-so-good reviews, including those at The Los Angeles Times, The New York Post, Variety, The Hollywood Reporter, and Time Out New York. Pfft. To each his own.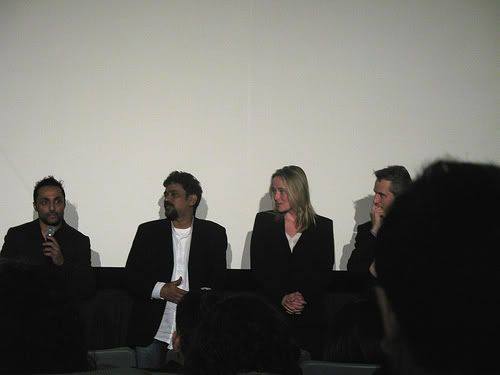 In other Rains news, the film was shown at the Asian American Film Festival yesterday, and it will continue to make its way around the world by appearing at the Edinburgh International Film Festival at the end of June. This photo is from the Q&A session at Tribeca, courtesy of Flickr.
P.S. Here is more evidence that Jack O'Brien is made of awesome, in case you needed any.