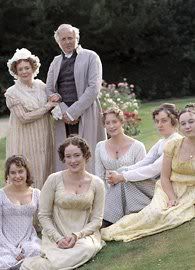 ...says Robert Bianco of
USA Today
. He is referring, of course, to the upcoming broadcast of our beloved
Pride and Prejudice
.
Masterpiece Theater
will be showing the movie in three parts beginning Sunday, Feb 10 (PBS, 9 ET/PT, USA). Woot! If this is the first time you've heard of this, then you've been living under a giant rock.
As part of "The Complete Jane Austen" hoopla,
Masterpiece Theater
has arranged for fans to submit questions to screenwriter Andrew Davies:
Masterpiece gives you exclusive access to screenwriter Andrew Davies! Ask Davies your question about any of his adaptations (Northanger Abbey, Pride and Prejudice, Emma, Sense and Sensibility) featured in The Complete Jane Austen.

Enter your name, e-mail and question below then submit. We'll pick the best questions, and answers will be posted here to coincide with the premiere of Sense and Sensibility March 30, 2008.
Additionally, you can watch video clips of his responses to previous questions. Good stuff!
Also in honor of the event,
Jane Austen's World
has put together some "Fun Facts." Note that a certain blog is mentioned in reference to a certain
Interview
.
Laurel Ann of the
Janites on the James blog
hilariously comments on "
The Men of Austen
" poll going on over at the Masterpiece Theater website:
I'm having a good giggle from reading the results of the 'The Men of Austen' poll...Darcy still rules, and John Thorpe drools! Ha! I am just amazed that the drippy Mr. Collins is seventh in the poll out of a possible 16 candidates! Really, Janeites, have you all gone all Charlotte Lucas on me? [...]
I am just amazed by the 46,514 votes that this is based upon. Speaking of 'the men of Austen'...lookie, there is now a
Colin Firth fan blog
. Is this the yin to our yang?
Moving away from
Pride and Prejudice
...here are a few links to information about
Washington Square
, the novel that Jennifer Ehle has recorded with
Silk Sound Books
:
And, Washington Square has its very own fansite.
Lastly, here are a few loosely related links:
It has been announced that Richard Easton will play Polonius in the Public Theater's upcoming production of Hamlet, which will run from May 27 through June 29 at the Delacorte Theatre. See Variety and Broadway.com for more information. (It seems that Shakespeare in the Park is a popular venue for Utopians!)
According to Playbill, Rosemary Harris is slated to take part in a gala honoring another Ms Harris -- Julie Harris. Julie Harris will be honored by The Actors Company Theatre on March 3 at the Hudson Theatre in Manhattan.
And, attention aspiring actors: the Actor Nation blog claims that Rosemary Harris recommends the book How to be a Working Actor, available for sale at Amazon.com.
Happy fine eyes-gazing on Sunday night, P&Pers.