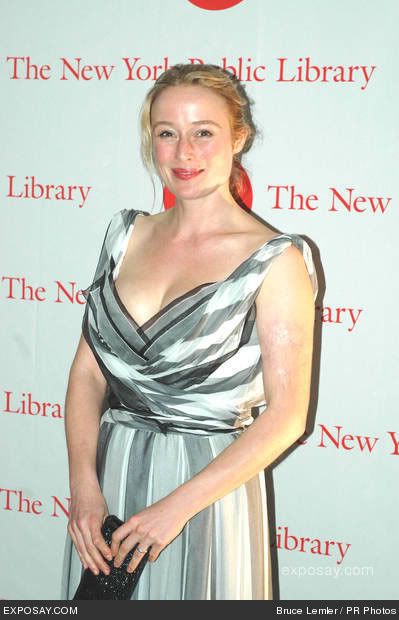 There are more photos of Jennifer Ehle in her Greek goddess getup at the NYPL Library Lions event at Star Pulse and Wire Image. (Thanks to Annie for letting us know!) Additional photos can be found at PR Photos, including the one on the left, which is also at Exposay (minus the watermark). There is also a picture at Yahoo Movies UK.
In other news:
There is a piece about Pride and Glory at Cinematical, though they don't report anything new, and the Movie Blog at Media Hollywood wonders why the movie is taking so long to be released:

[...] My only reservations are that, if I remember correctly, this movie finished filming a long time ago, and that leaves me wondering what's keeping it so long. Then again, The Assassination of Jesse James came out nearly two years after it finished filming and turned out to be a brilliant masterpiece, so I guess that shouldn't worry me too much.

Someone on the tagboard had trouble viewing the Pride and Glory trailer we posted. If the links we've provided don't work for you, you might want to try watching it at Youtube.
Jeff Lunden of NPR (National Public Radio) recently interviewed Tom Stoppard about his latest play, Rock 'n' Roll. At the NPR website, you can read the interview, listen to audio clips from the interview, and listen to audio clips from the play. Very interesting stuff!
Finally, the News & Observer reports on the "Free Men Reunion" and includes some great quotage from John Ehle:
Forty-five years of history fell away at UNC-Chapel Hill on Thursday night.

Participants in Chapel Hill's tumultuous civil rights demonstrations of the early 1960s said that, in some ways, a lot of progress has been made. In others, there's still a long way to go.

They met for a panel discussion at UNC's Wilson Library to celebrate the republication of John Ehle's 1965 book "The Free Men," which chronicles Chapel Hill's desegregation.

...

But Ehle said he thinks the goal of the 1960s protests was to bring about equal protection under the law for blacks.

He said he remembered watching a march in Raleigh where demonstrators gathered and sang. "It was one of the most moving things." he said. "If they wanted to integrate with me, they didn't say so. They wanted their rights."

Ehle, 81, said before the panel discussion that he was pleased his book was being reprinted by Winston-Salem publisher Press 53.

"This is a story of people," Ehle said, "many of them dead, some of them still alive. Of events in North Carolina history that were significant."

And the republication more than 40 years later is very different, he said. One difference -- "I don't get snubbed on the street."

When published, Ehle said, his book about acts of civil disobedience was not well-received -- even by Chapel Hill's progressives. "I would say it was not welcomed by many of the liberal people," he said. "It was very disruptive what the young people did, what the students did. ... They did not work within the established boundaries.

"Blocking traffic in Chapel Hill on a sports day was not really a civilized thing to do," he said slyly. [...]