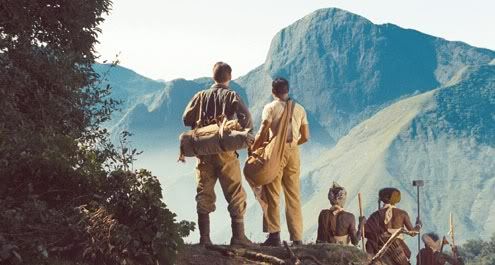 Meanwhile, Sivan says his film Before The Rains 'explores the turmoil of a man who is torn between two worlds and the choice he makes to gain his own freedom and embrace his true identity.' In perhaps his most challenging role, Rahul Bose [Images] plays a worker in rural Kerala whose life begins to take a dramatic change when he gets to know that the married Englishman is having an affair with a servant. Sivan says characters in the films are 'more grey' than black and white.

As for the lecherous Englishman (Linus Roache), who seduces a tribal woman (Nandita Das), Sivan says: 'I wanted the Englishman to be someone you could understand. Like Bill Clinton [Images].' The grey area in the film, Sivan told Screen International, comes when one of the workers (Bose), who belongs to the same community as Nandita's character, wants to be like an Englishman. 'He has the mentality of an Indian but also wants to be an Englishman!'

Sivan is keeping his fingers crossed, though. Six years ago, he was on the way to Toronto to premiere his second directorial venture, Asoka. But 9/11 spoiled everything. The print didn't reach the festival on time; so press interviews featuring Sivan and Shah Rukh Khan [Images], who had also produced the film apart from playing the lead, were cancelled.

He says just like Asoka, a period film that conveyed the importance of non-violence to the contemporary world, Before The Rains -- which is set in the 1930s -- should connect with our times. 'Just as the darker themes of the story continue to resonate today, I feel that the theme of hope will resonate most strongly with audiences,' he says.
The Toronto International Film Festival kicks off Thursday at a time when few, if any, Oscar contenders have emerged so far. Festival director Noah Cowan estimated that this year's lineup contains about 40 movies with Oscar potential, as well as 10 likely candidates for U.S. acquisition and another 10 prestige titles likely to find international buyers.
...
Underdogs generating buzz include Weingartner's German-language drama "Reclaim Your Brain," Santosh Sivan's culture-clash drama "Before the Rains," Nick Broomfield's Iraq War drama "Battle for Haditha" and McCarthy's "Visitor." The opening-night film, Canadian filmmaker Jeremy Podeswa's Holocaust drama "Fugitive Pieces," has been screening for U.S. buyers since midsummer. [...]
Eye Weekly has the first review of the film that I've been able to find, but unfortunately it's not very kind:
It's an old rule: guns, once produced, must be used. So after the first scene of the Kerala-set period piece Before the Rains, when British planter Henry (Linus Roache) presents his village liaison T.K. (Rahul Bose) with a brand new pistol, it's pretty obvious what's going to happen – the only question is to whom. Director Santosh Sivan aims for clammy melodrama – the Psycho car-in-the-swamp kind, where our sympathies become aligned with unsympathetic actions – but the story and its carefully italicized implications are too pat to be properly unnerving. AN
In case you're interested, Variety has published a favorable review of Before the Devil Knows You're Dead, Rosemary Harris' latest film.
The Firth Sisters have announced the final tally for the Colin Firth Oxfam Birthday Tribute. The grand total was a whopping $7,145.00!! Very impressive! If they can do it, so can we - don't forget to participate in our BC/EFA fundraiser, Every Kopeck Counts.